Fifty Book Benches have been scattered around London in the United Kingdom in a project by the National Literary Trust to celebrate London's literary heritage and encourage reading.
"The 50 benches are dedicated to books, characters and authors: from Sherlock Holmes, James Bond and Hercules Poirot to Peter Pan, The Gruffalo and Paddington Bear. " The Guardian.com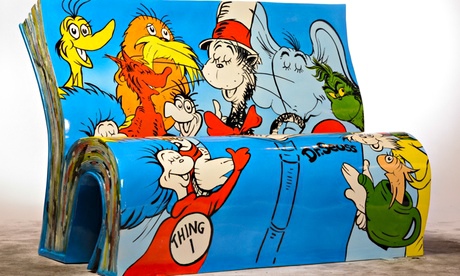 The many 'Things' of Dr Seuss, as painted by Sarah Jane Richards.
Photograph: Chris O'Donovan for the National Literacy Trust'
Image via The Guardian.com HERE
The benches will be on display until mid September, then they will be auctioned in early October to raise funds for the
National Literary Trust.
Make sure you take the QUIZ BEFORE you
have a look at the list of all 50 Book Benches HERE.
They truly are amazing!
Source: The Guardian.com HERE