Another in a series of posts about children's classic books available for borrowing from our school library.
The Secret Garden was written by Frances Hodgson Burnett. Though now regarded as children's literature it was originally published in serial format in an adult magazine during 1910, and first published in book format in 1911.
The Secret Garden tells the story of 10 year old Mary Lennox who begins the story living in India with her wealthy parents. She is spoilt and selfish and has little respect for those who are less well off than herself. After her parents and much of the household die in a Cholera epidemic Mary is sent back to England to live with an uncle she has never met. Feeling unwelcome and with little to occupy her time Mary wanders the house and grounds meeting her invalid cousin and eventually discovering a secret garden locked and forgotten since the death of her aunt. This is the beginning of the transformation of her life and of those of her uncle and cousin also.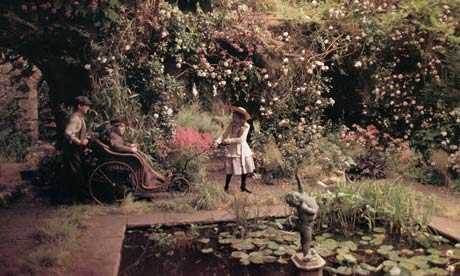 This image from the 1993 movie is from HERE
A number of film, television and stage adaptions of The Secret Garden have been made, currently the most well known of these being the 1993 American film adaption, from which the image above is taken.

Currently we have a copy of The Secret Garden by Frances Hodgson Burnett in the Fiction section of our library.
Upper Hutt Library currently holds 4 copies of
The Secret Garden
by Frances Hodgson Burnett as well as an ebook version; an audio book and a DVD.
The Secret Garden
by Frances Hodgson Burnett
can be read
online at Project Gutenburg
and is available for
download free at Project Gutenburg
.
Most of the above information about
The Secret Garden
was adapted from
here
,
here
and
here
.